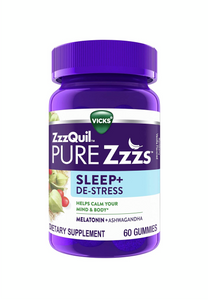 Ashwagandha is an adaptogenic herb that helps your mind & body relax. It has been used for thousands of years due to its unique relaxation properties and ability to help people deal with stress like sleeplessness, irritability, and an inability to concentrate.
PURE Zzzs De-Stress & Sleep combines the ancient power of ashwagandha that helps you relax and unwind before bed with an optimal dose of melatonin that helps you fall asleep naturally and wake without grogginess*. Breathe in, breathe out, sleep tight.
Work wonders
I take this once in awhile where I need to have a good sleep after a stressful and busy day. It does works for me. It's tasty and it keeps me asleep till morning.
Sleep help
This product does help me to get sleepy..I have been trying to get to bed earlier than I normally do, so this product really assist me on that. Coz if not, I'll b on my phone till wee hours