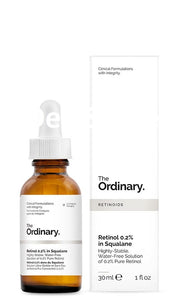 This water-free solution contains 0.2% pure Retinol, an ingredient that can reduce the appearances of fine lines, of photo damage and of general skin aging. While Retinol has been studied extensively, it is irritating to the skin and newer technologies exist that mimic the visible effects of Retinol without causing skin irritation. 
Caution: Retinol can cause significant irritation, redness and peeling, especially around the eyes and mouth, in the early stages of treatment while skin builds tolerance. If you have not used high-strength retinol formulas in the past, we strongly recommend that you start your retinol regimen with our Retinol 0.2% in Squalane and adjust to higher strengths of Retinol 0.5% in Squalane and Retinol 1% in Squalane as your skin builds tolerance. You will achieve the same end results without the unpleasant redness and peeling along the way.
Note: Water can affect the stability of retinol. Additionally, plant oils in retinol formulations can trigger lipid peroxidation and can impair retinol integrity. This formula does not contain water, silicones, plant oils or alcohol.

When pregnant or breastfeeding, it is recommended to avoid any skincare products containing retinoids such as formulations with Granactive Retinoid or Retinol.
Caution: Retinoids can make the skin more sensitive to UV radiation. Sun protection is particularly important when using retinoids. This product must not be used in conjunction with other retinoids including retinol or retinoic acid. This product is not a treatment for acne. Acne-prone skin may experience a temporary increase in acne during the first few weeks of using any form of retinoid including those used in this formulation.


Directions
Apply a small amount to face in the PM as part of your skincare regimen, after water-based serums but before heavier treatments. Do not use with other retinoid treatments. Avoid unprotected solar exposure. Caution: Retinol can cause irritation, redness and peeling, especially around the eyes and mouth, in the early stages of treatment while skin builds tolerance. If persistent irritation occurs, cease use and consult a physician. Use only as directed on unbroken skin. Patch testing prior to use is advised. Keep out of reach of children. Refrigerate after opening.
first timer review
i've been using this about 2 weeks now. no significant effect yet but i'll continue using it. maybe it takes time.
Authentic product
I checked the barcode on the UPC barcode lookup to verify. I have only used the product twice now and don't see much difference yet, but then again, this product is meant to only show results after a long stretch of time. I'm happy I was able to get an authentic TO product at an affordable price. Thanks JDeeSpree!