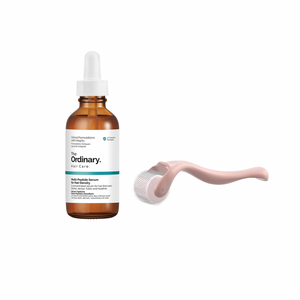 Save RM 9 with this bundle!
This concentrated formula is designed to support hair health so that it looks thicker, denser, fuller, and healthier.

- Redensyl™ (Givaudan): Targets stem cells and human fibroblasts from the derma papilla to improve hair density.
- Procapil™ (Sederma Inc.): Increases blood flow in the scalp, which allows the hair to be well nourished, resulting in the appearance of thicker hair.
- Baicapil™ (Provital): Increases the look of hair density.
How to Derma Roll your scalp :
Start by a sectioning the areas where you are experiencing hair loss.

Apply a few drops of oil or topicals into the parts, and then massage them in.

Use derma roller to roll over the parts in the direction of the hair growth 4-5 times. Apply the same amount of pressure that you would if painting a portrait.

After you have finished derma rolling, apply a few more drops of oils or topicals, if desired.