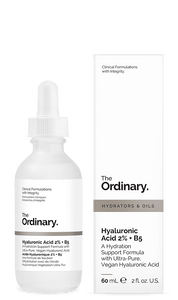 A hydrating formula with ultra-pure, vegan hyaluronic acid.
This formulation combines low, medium, and high molecular weight hyaluronic acid, as well as a next-generation H.A. crosspolymer at a combined concentration of two percent for multi-depth hydration. This system is supported with the addition of B5 for enhanced hydration.
Best serum
Have not seen so much different much but slowly getting better for my oily skin.. n it make my face feel soft & lighten my skin ..
Best Hyaluronic Acid serum
Such a steal! A good value for a 60ml bottle. Have been using it with niacinamide daily. Have not seen much difference yet.
Serum for oily skin
light texture and very mild moisturizer for oily skin. This is my second purchase and definitely will repurchase in future as the price is reasonable.