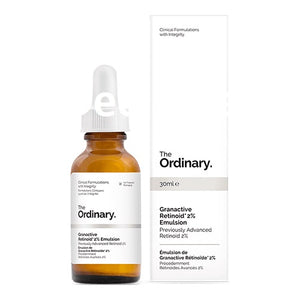 A stable serum emulsion of a next-generation retinoid active that achieves better reduction in visible signs of aging than retinol—without irritation.
This formulation combines two forms of next-generation retinoid actives:

a) A 2% concentration of Granactive Retinoid which is a complex of solubilized Hydroxypinacolone Retinoate (HPR). HPR is a highly-advanced form of retinoid which is, in fact, a non-prescription ester of all-trans direct retinoic acid that offers a multi-fold better effect against signs of aging than retinol, retinyl palmitate and nearly all other forms of non-prescription retinoid;

b) A sustained-delivery form of pure retinol in a protective capsule system which supports both the delivery and the effect of Granactive Retinoid.

Both forms of retinoid used avoid the irritation associated with retinoids (including retinol) use while delivering better visible results against signs of aging.

Solutions for:
- Dullness and uneven texture
- Fine lines and wrinkles

If you want to know more…
The retinoid active used in this formulation helps to avoid the irritation associated with retinoid (including retinol) while improving visible signs of aging.
Note: When pregnant or breastfeeding, it is recommended to avoid any skincare products containing retinoids such as formulations with Granactive Retinoid or Retinol.
How to Use:
Apply a small amount to face in the PM as part of your skincare regimen, after water-based serums but before heavier treatments. Do not use with other retinoid treatments. Avoid unprotected solar exposure. If irritation occurs, cease use and consult a physician. Use only as directed on unbroken skin. Patch testing prior to use is advised.
TO Granactive Retinoid 2% Emulsion
Review
I really like TO Granactive Retinoid 2% Emulsion. Suitable for my sensitive skin. Skin looks slightly firm n glowly after 1 mth. I always apply after moisturizer n before sunscreen. Love it!
Suitability review
I've been using it for 2 weeks now and i feel like it's suitable for me as there's no redness, itchiness, or any uncomfortable feeling on my skin. However, to rate the effectiveness, it has a long way to go and i hope it will do wonder to my skin!
TO Granactive Retinoid 2% Emulsion