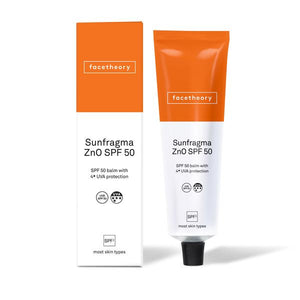 A silky, easily spread sunscreen for face and body. Sunfragma ZnO with SPF50 combines a non-nano physical zinc oxide filter and best-in-class UVA and UVB chemical filters (Tinosorb® S and Uvinul® A Plus) to provide broad-spectrum protection without causing sensitivity. Recommended for most skin types, including sensitive skin.
Sunfragma ZnO is a creamy balm that goes on white and dries clear within a minute. Quickly absorbs into skin leaving a satiny sheen and with minimal whitening and chalkiness.
Sunfragma is formulated without alcohol, so it won't sting upon application and is less likely to dry out your skin.
In-vivo testing shows that by modulating the expression of P53, sunburn cell, MMP-1 and collagen and major changes in secreted proteins that modify keratinocyte, melanocyte and fibroblast cell behaviour, hydroxystearic acid ameliorates conspicuous pores and facial spots.
Free of parabens, silicones, PEGs, SLS, SLES, and mineral oils. Vegan and cruelty-free. Made in the UK
If under the age of 18 or if you are pregnant, please consult your doctor before use.