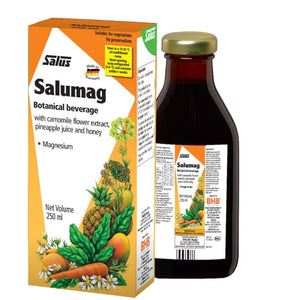 SALUMAG is a botanical beverage with camomile flower extract, pineapple juice and honey which is high in magnesium.
FUNCTION:
Relaxes nerves Relieves tension and induces a restful sleep
• Help to cope with the demanding pace and pressures of modern life.
• Lower the risk of hearth disease.
• Prevent stroke and obesity.
• Improve mood and memory.
Nothing better than a Good Night's Sleep ! Magnesium is the most important mineral in the body, needed for more than 300 biochemical reactions. It helps maintain normal muscle and nerve function and keeps heart rhythm steady.
This "anti-stress mineral" relaxes nerves, relieves tension and induces restful sleep. It also aids bowel regularity. Magnesium compounds with organic substances have proven to be particularly well absorbable.
MADE IN GERMANY
Who to Avoid:
People with Kidney Disease, On antibiotics (Magnesium may influence the efficacy of certain antibiotics.)
Serving Suggestion
Consume 2 tablespoons straight or dilute with water.
Ingredients
Purified water, magnesium gluconate, honey, aqueous camomile flower extract, aqueous fennel fruit extract, aqueous bitter orange peel extract, aqueous carrot root extract, magnesium citrate, aqueous spinach leaf extract, pineapple juice concentrate, pear juice concentrate, mango juice concentrate, apricot juice concentrate, carob extract, grape juice concentrate, lemon juice concentrate, apple juice concentrate and natural flavours.
Every 20ml contains