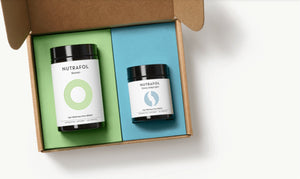 Improves hair growth by targeting stress with adaptogenic botanicals.
Nutrafol Women
THE FOUNDATION FOR HAIR GROWTH
Promotes visibly stronger hair and less shedding by targeting multiple root causes of thinning hair.
Stress Adaptogen
EXTRA SUPPORT FOR STRESS
Adaptogenic botanicals that support your body's stress resilience, which is essential for a healthy hair growth cycle.