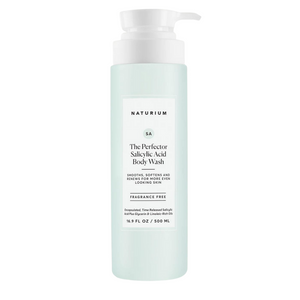 This skin renewing body wash is formulated with encapsulated, time released salicylic acid that provides gentle exfoliation to help clear clogged pores and smooth skin without dryness or irritation. Developed for all skin types and appropriate for daily use. Can also be used as a facial cleanser.
BENEFITS
Smooths and decongests without dryness or irritation
Nourishes and replenish skin
HOW IT WORKS
Spheres adhere to the skin, where the hydrophobic matrix gradually breaks down and releases SA in a controlled manner.
Unique technology maintains a skin-friendly pH level that does not dry out or irritate skin
HOW TO USE
Apply a generous amount onto hands, washcloth or loofah and massage into skin. For added benefits, leave on for a few minutes. Rinse thoroughly.