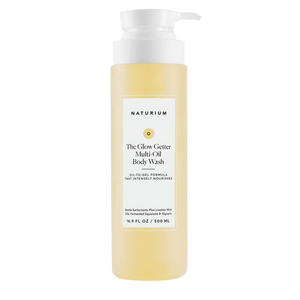 This sensorial, multi-oil body wash transforms from a luscious oil to a gentle lather, cleansing without stripping the skin of essential moisture. Formulated with over 50% glycerin, a blend of linoleic-rich oils and plant-derived squalane, this transformative body cleanser is rich in humectants that hydrate and intensely nourish skin.
BENEFITS
Cleanses with a gentle, milky foam & rinses clean, without residue
Respectful to skin's barrier and microbiome
Leaves skin nourished, deeply hydrated and glowing
HOW IT WORKS
Powered by over 50% glycerin and phyto lipids for a unique conditioning, hydrating & protective effect
Helps maintain healthy skin barrier and acid mantle
HOW TO USE
Apply a generous amount onto hands, washcloth or loofah and massage into skin. For added benefits, leave on for a few minutes. Rinse thoroughly.
Sukaa
Senang deal. Customer service tip top. Kalau nak order naturium sendiri mesti mahal lagi. Thank u for making my life easy