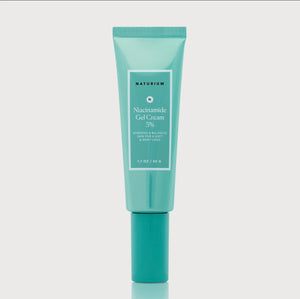 Our innovative, experiential gel cream is formulated with a potent level of niacinamide, which works to help the skin establish a healthy hydration balance for a poreless, soft & dewy look.
BENEFITS
Experiential gel cream formula reestablishes a healthy hydration balance to the skin for a poreless, dewy, glass-like look.
HOW TO USE
Using upward motions, massage gently onto face, neck and chest. For best results, layer after serums morning and night.
Love it!!
i have sensitive and dry skin and this moisturiser is really dabomb for my skin!!!!
Work wonders on my skin and able to see the difference within a week of time itself
Amazing for my mix/oily skin
This was a recommendation from Jdspree. I've been using other brand before but decided to try another brand and so far after a week plus, i could see that it helps to control my mix/oily skin. And reduce pimple.
Naturium Niacinamide Gel Cream 5%
I've been doubling up on my niacinamide, by applying this after my serum. I love how cool this gel moisturizer is on my skin - it really compliments the calming power niacinamide has on my skin. So glad I added this to my daily routine.