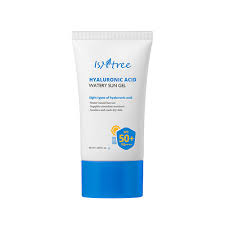 An Organic/Chemical SPF that focuses on skin moisturisation/hydration without white cast.
A 4-season, moisture/lotion-like sun gel with no white cast. This product aims to moisturise the skin + relieve it of irritation. Containing Ceramides, this product aims to prevent the skin from feeling dry. With the addition of 8 types of Hyaluronic Acid – these ingredients aim to lock moisture into the skin. Niacinamide is included to help the skin's oil-moisture balance. Soothing ingredients are also.
Supposedly Good for: All Skin Types
Besttt😍
I love this sunscreen bcs didnt feel heavy or irritate my skin at all 👍🏻👍🏻👍🏻
Best. Sunscreen. Ever. (so far)
The title says it all. If you're looking for a light-weight sunscreen with literally a dewy finish, go for this. You won't regret it.
(PREORDER) Isntree Hyaluronic Acid Watery Sun Gel