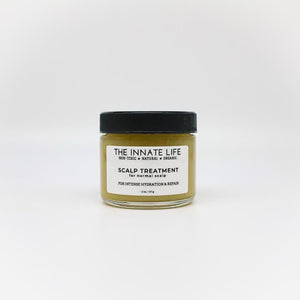 Hair growth starts at the root. The Scalp Treatment is the ultimate product for hair growth because it nourishes and stimulates the scalp. It's packed with natural goodness that will benefit your scalp and hair in ways you never thought possible! Used a couple times a week, The Scalp Treatment will provide intense hydration and repair the scalp for ultimate growth. It's relaxing herbal scent makes it an essential part of any self-care day.
*The Normal Scalp Treatment is best for individual without any scalp-related issues such as dry, itchy or flaky scalp.
KEY INGREDIENTS
Argan Oil is popularly known as "liquid gold" for hair. It's extremely high in Omega 6, 9 and Vitamin E that keeps hair soft, silky and shiny.
Castor Oil is high in Vitamin E, Omega 6 & 9 and ricinoleic acid. Ricinoleic acid helps balance the scalp's pH level which provides the perfect conditions for hair growth. It's also high in antioxidants that support keratin (hair protein) and increase the overall thickness of the hair.
Rosemary Essential Oil is a powerful stimulant that increases blood circulation to the hair follicles. It allows nutrients in the blood to reach the hair follicles which leads to healthier scalp and hair growth. 
Bhringaraj or Eclipta alba is an Ayurvedic herb found throughout India and the southwestern U.S. Its name means "ruler of the hair" and so is considered to be the best Ayurvedic remedy for hair loss, premature graying and is also said to help make hair dark, dense and lustrous.
Shikakai has been used for centuries as a cleanser for hair and body. It is rich in vitamin C and also A,D, E, and K and other antioxidants which are essential for quick and healthy hair growth.
HOW TO APPLY
Apply to dry hair. Section your hair in the middle and apply a pea sized amount directly onto the scalp. Rub gently to let the product sink in. Keep sectioning the hair until treatment is on all parts of the scalp. Massage the scalp for 3-5 minutes. Leave on for few hours or overnight. For best results, use once or twice a week. May need to shampoo twice. For best results, apply 1-2 times a week. Store in cool, dry place (away from sunlight).