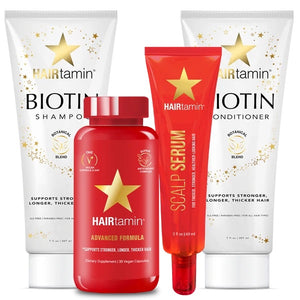 Hair Goals Bundle features our best-selling HAIRtamin Advanced Formula, all-new, SCALP SERUM and award winning Biotin Botanical Blend Shampoo + Conditioner.
More confidence in the hair dept for sure!
I have just had 2 full weeks of the HAIRtamin Advanced Formula along with once-in-two-days use of HAIRtamin Biotin Shampoo and Conditioner. I would say that I have not seen such effective results in any other hair fall control products, and trust me that I have tried many over the years that I have been vain about my hair.
I've tried these before years ago but stopped because it was not as accessible as it is now with online shopping. So the really new product to me was the HAIRtamin Scalp Serum that I am also using. The spout of the tube is designed in a way that is ergonomic for easy application and minimises spillage/wastage. I would recommend HAIRtamin for anyone who'd like to have more confidence in the hair department.