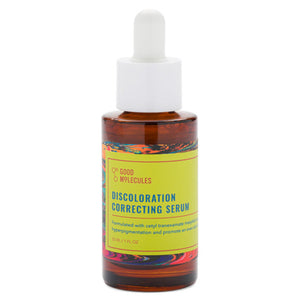 Improve the appearance of skin discoloration and uneven skin tone with Discoloration Correcting Serum from Good Molecules. Formulated with tranexamic acid and niacinamide, this lightweight serum improves the appearance of age spots, acne scars, hyperpigmentation, and sun damage. Target skin discoloration and promote a clear skin tone with tranexamic acid, a brightening powerhouse derived from the amino acid lysine Improve the appearance of uneven skin tone and texture, dullness, and enlarged pores with niacinamide Apply a few drops in the morning and at night before oils and moisturizers. Suitable for daily use. Discontinue use if irritation occurs.
Other Details Size: 30 ml / 1 oz
Good Molecules Discolouration Correcting Serum
The serum works GREAT on my skin. I've tried other serums to get rid of my discolouration, it just makes my skin even worse. The good molecules discolouration serum didn't irritate my skin and it works perfectly fine on my skin.
Good molecules discoloration correcting serum
Been using it for 2 weeks now and I can see the changes slowly. Slow and steady because I've been using only at pm (using during am causes breakouts on nose and chin and I don't have breakouts on my nose and chin usually). I have oily skin and this serum helps to control the oil producing and as well the acne on my cheeks. Going to continue use it and see further results (consistency is the key). Overall I'm happy and satisfied :))
Easy absorb. Effective serum. Love it
Great for pigmentation!
Really love this product as it helped to even out skin tone. :) definitely will be repurchasing this product !!!!
GOOD MOLECULES
It really does wonders to my skin! I can see that my skin is getting better day by day of consistantly wearing it.