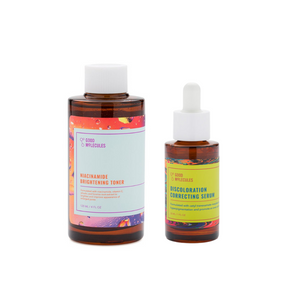 Good Molecules Best Selling Duo for Hyperpigmentation 
Target hyperpigmentation and uneven skin tone with Discoloration Correcting Serum from Good Molecules—now with even more brightening benefits.
Why It's Special
2% TeraCeutic TXVector™ (cetyl tranexamate mesylate) delivers tranexamic acid deep into the skin to help fade hyperpigmentation
Dual-action formula targets existing dark spots and prevents future hyperpigmentation before it occurs
4% niacinamide works to improve the appearance of uneven skin tone and texture, dullness, and enlarged pores
How to Use
Apply a few drops in the morning and at night before oils and moisturizers. Suitable for daily use. Discontinue use if irritation occurs.
Promote bright, even skin and less visible pores with this alcohol-free toner from Good Molecules. Niacinamide Brightening Toner is formulated with a soothing blend of brightening ingredients that work to reduce the appearance of dullness, uneven skin tone, and enlarged pores.
Why It's Special
Target uneven skin tone, dullness, and visible pores and strengthen your skin's barrier function with niacinamide (vitamin B3)
Naturally derived arbutin improves the look of hyperpigmentation while licorice root extract soothes inflammation and inhibits excess melanin production
A stable form of vitamin C boosts skin's ability to defend itself against free radical damage and promotes collagen production
How to Use
Dispense onto a cotton pad and gently sweep over freshly cleansed skin. Can also be dispensed into palms and patted into skin until fully absorbed. Suitable for daily use.