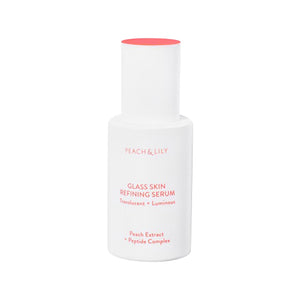 Poreless, luminous, translucent
Glassy, poreless, luminous, translucent-looking skin is achieved when skin is well hydrated and without inflammation and free radical damage. A revolutionary cocktail of peach extract, niacinamide, East Asian mountain yam, madecassoside, peptides, and hyaluronic acid help to hydrate, calm, brighten and firm skin. Crystal-clear glass skin is yours.
Size: 40ML
Superskin Ingredients:

(1) Peach Extract: a powerhouse chock full of vitamins, minerals, and essential fatty acids known to help keep skin firm, radiant and resilient

(2) Niacinamide: a Peach & Lily favorite ingredient as a proven ingredient to help quell inflammation, provide antioxidative benefits and help brighten skin

(3) East Asian mountain yam extract: helps to create more supple skin and reduce flakiness for the ultimate glassy skin

(4) Madecassoide: derived from Centella Asiatica extract, madecassoide helps to curb back inflammation and soothe skin while stimulating collagen production

(5) Hyaluronic acid complex: a proprietary blend of short-chain, medium-chain and long-chain hyaluronic acid molecules helps provide hydration at every level of skin; short-chain molecules sink into the deeper layers, while medium-chain molecules fill in the layers closer to the surface of the skin, and long-chain molecules lock in moisture on the skin's surface so that skin is plumped up from within while the outer layer becomes radiant

(6) Peptide complex: a proprietary blend of peptides are included to signal collagen production to help fill in the fine lines and deeply etched wrinkles, and firm skin, for an overall smoother, glassier appearance
Skin Concerns
Acne

Anti-aging

Dryness

Dullness

Fine Lines/Wrinkles

Firmness

Oiliness

Pores

Redness

Sensitivity

Uneven Skin Texture
Skin Types
Dry Skin

Normal Skin

Oily Skin

Combination Skin
Good product!
My skin is clearer now.I love the product.Worth the hype and price.Will continue to purchase it once it is finished.
Peach & Lily Glass Refining Serum
Aboslutely the best serum I have ever used. Perfect texture and consistency that hydrates my oily but dehydrated skin, leaving it with a glassy sheen instantly. Combine with P&L matcha pudding for best results. I only wish it came in a bigger bottle!