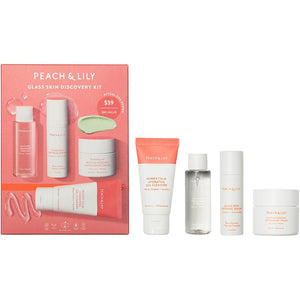 Your definitive Glass Skin routine – in four easy steps
Glass skin: skin that's so healthy it appears poreless, luminous, and translucent. If you're looking to achieve your glass skin goals, welcome, you've come to the right place. Peach & Lily introduced Glass Skin to the U.S. and are creators of the award-winning, #1 bestselling Glass Skin serum. We've helped countless people achieve their glass skin goals, no matter their skin type or skin concern. Our Discovery Kit is a unique, four-step routine of hero products that help you achieve Glass Skin quickly.
Kit includes:
Step 1: Power Calm Hydrating Gel Cleanser: (1.0 oz) Dissolve impurities and cleanse thoroughly down to pores while hydrating skin with this low pH, sulfate-free cleanser
98% said it calms any facial skin irritation and skin feels deeply cleansed*
Step 2: Wild Dew Treatment Essence (1.0 oz) Tone and drench skin with hydration for radiant, dewy skin. Pure lotus and bamboo extracts leave skin looking brighter and calmer
98% experienced a healthy, radiant glow and enhanced absorption of other skincare products*
Step 3: Glass Skin Refining Serum (0.5 oz) Poreless, luminous, and translucent-looking skin is yours thanks to peach extract, peptides, niacinamide, and hyaluronic acid
#1 bestseller 96% saw smoother, softer, more hydrated skin*
Step 4: Matcha Pudding Antioxidant Cream (0.67 oz) This deeply moisturizing formula, chock-full of antioxidants and skin brighteners like matcha and niacinamide, hydrates without sitting heavy on the skin
100% saw revived, hydrated skin with reduced sensitivity and irritation*
Peach & Lily Glass Skin Discovery Kit
LOVE Peach & Lily products. The glass skin serum gives immediate results, and the matcha moisturiser is skin drenching yet light (I am combination skin). My complexion has vastly improved since using these products. I am known to buy serums and use it only halfway, but I finished the glass serum down to the last drop! On my 2nd bottle now but will definitely repurchase. Please have more ready stock as it is so hard to get in Malaysia!