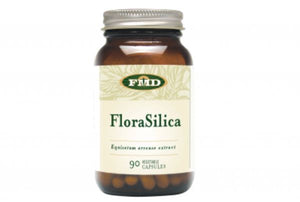 FloraSilica is the only organic vegetal silica from the spring horsetail that is chelated with bioflavonoids to stimulate your body to produce the collagen that it needs.

-Proven Effective And Safe- obtained from a patented atomized aqueous (water) extraction method invented by Prof Dr Louis Kervan (only the water-soluble silica is extracted by this method)
- High Absorption & most suitable for human use water-soluble form of silica in the form of Orthosilicic acid ((H4SiO4)

- Contain Other Health Restoring Nutrient-the gentle water extraction process preserves the trace elements like calcium, magnesium, potassium and iron

- Vegan Compliance- encapsulated in easy-to-digest vegan-caps, suitable for vegetarians and vegans.
 
Health benefits:                                        
1.Silica has been proven to be essential for the formation of cartilage.
2.Vital for proper bone formation and maintain normal bone structure.
3.Facilitates bone calcification and bone mineralization to prevent osteoporosis (the body cannot assimilate and make use of the calcium without the presence of silicon)
4.Tendons & ligaments - the synthesis of collagen in tendons and ligaments decrease with silica deficiency.
5. Silica maintains the integrity, elasticity and stability of arterial walls and improving atherosclerosis.
6. Silica is important for optimal collagen synthesis to produce better skin with more elasticity, suppleness and fewer wrinkles.
7. Hair with higher silica content tends to fall out less and has more shine and luster, helps to grow thick, strong and shinny hair
8.Silica improves nail quality, maintain strong, flexible nails and prevent brittle and soft nails
Ingredients:
Silicon --- 4.7mg (equivalent to 10mg of silica extracted from 416.5 mg of spring horsetail extract (Equisetum arvense))
Direction for use:
1.Adult:1-3 capsules daily, taken after meal.

Not recommended for kidney disease pregnant women, nursing women, and children.

Storage:
Store below 25'c and protect from light and moisture.