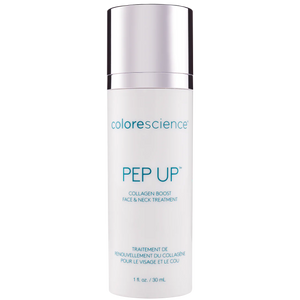 Ideal for all skin types, Pep Up® combines a powerful blend of ingredients to help support your skin's own healthy collagen production, so it can defend against visible signs of aging. This treatment will enhance skin texture and tone, diminish the appearance of wrinkles, and provide you with a healthy, rejuvenated look.
+ Promotes healthy collagen & elastin production
+ Deep hydration + advanced antioxidant support
+ Hypoallergenic
+ Non-comedogenic
USAGE:
+ Apply 1-2 pumps twice daily to the face & neck after cleansing or applying toner.
CLEANSE & TONE:
+ If you're cleansing in the shower, the steam will open your pores to help Pep Up®, like any product, absorb. If not cleansing in the shower, apply a warm, moist towel for the same pore-opening effect. Then, apply your favorite toner if you use one.
DISPENSE & DOT:
+ Dispense two pumps of Pep Up® and apply small dots to the face and neck. Pep Up® the décolleté too – you may need an extra pump or two.
MASSAGE & TAP:
+ Use light, quick, upward strokes to massage Pep Up®into your skin. While Pep Up® is still slightly damp, gently tap your face with your fingers to press product into skin and help it fully absorb.
Glowing skin
Skin felt firmer and hydrated, been getting compliments for my glowing skin!