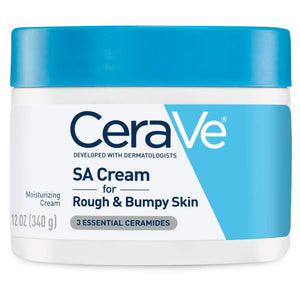 [ EXFOLIATE WITHOUT DISRUPTING SKIN'S BARRIER ] Formula that exfoliates and moisturizes with Salicylic Acid, Niacinamide, Hyaluronic Acid and Vitamin D to loosen and exfoliate dead skin cells and penetrate skin's deeper layers for enhanced effectiveness

[ ESSENTIAL CERAMIDES ] Formulated with three essential ceramides (1, 3, 6-II) that help restore and maintain its natural protective barrier

[ PATENTED TECHNOLOGY ] Utilizes patented MVE controlled-release technology to help replenish ceramides and deliver long lasting moisturization

[ GENTLE ON SKIN ] Free of fragrance and dye, hypoallergenic, non-comedogenic and non-irritating

[ RICH TEXTURE ] Ideal for extremely dry, rough, bumpy skin. Discontinue use if there is any irritation or burning
Trying to find a solution for my strawberry situation!
After a week of using it, i do see a bit of a difference on my forearm, arms, and legs! Albeit a little slow but thats expected! At least they aren't that obvious as before and I'm patient enough to try and keep using it :)
Huge and it last longer
Used it for like a week straight and I can already see changes on my arms! However there's a distinct smell to it, like a vinegar scent but not too overwhelming.
It clear my backne faster!
Thank goodness. My back almost clear from acne and tiny bumps. I applied this cream every night after i get my shower. It helps my acne scars to fade away faster and minimize the redness 💕💕
Effective
Start clear up acne on back