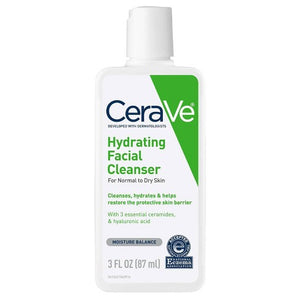 Soothe and revitalise dry skin with CeraVe Hydrating Cleanser, a deeply hydrating cleanser created with three essential ceramides. Suitable for both the face and body, this cleanser is designed to soothe sensitive skin that can be prone to irritation and eczema. The soap-free, non-foaming lotion helps to keep your skin feeling soft and moisturised.
Expertly sweeping away dirt, excess oil and impurities without stripping away moisture, the cleanser uses Hyaluronic Acid to strengthen and restore the natural barrier function for long-lasting hydration. Time-release technology ensures skin stays bright, clear and refreshed throughout the day and night.
Suitable for normal to dry skin types.
Free from soap and fragrances. Hypoallergenic and non-comedogenic
Good service and fast delivery
Good service and fast delivery
Satisfied
Skin feel so hyrated and smooth. Love it!
Cerave hydration cleanser
Its live up to the name, so hydration eventho i didn't wear anything after cleansing. Next morning my face still smooth. Will definitely repeat.
Cerave
The cerave hydrating cleanser is really gentle and doesn't burn or harm my skin. The moisture really works, it doesn't leave any oily finishing but a glossy glowing finishing and the moisture locks in for long
Cerave hydrating clenaser