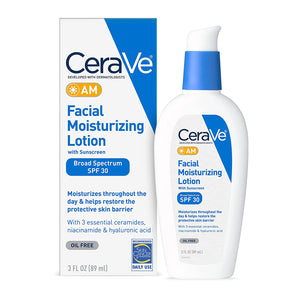 A hydrating face lotion is a key morning skincare step—and a moisturizer with SPF is critical for helping to protect the skin from damaging UV rays. For hydration and skin-barrier replenishment that helps the skin hold on to moisture, look for ingredients like hyaluronic acid, niacinamide and ceramides and a non-comedogenic moisturizer like CeraVe AM Facial Moisturizing Lotion with SPF 30 won't clog pores or cause acne flare-ups.

CeraVe AM Facial Moisturizer is a morning skincare multitasker. Featuring three essential ceramides, hydrating hyaluronic acid and soothing niacinamide, this face lotion uses patented MVE Delivery Technology to supply much-needed moisture and nourishment throughout the day. Offering Broad Spectrum sunscreen, this moisturizer with SPF 30 features InVisibleZinc™ Technology (microfine zinc oxide) that spreads easily and evenly while leaving a residue-free clear finish. And because this non-comedogenic moisturizer formula won't clog pores, it's ideal for all skin types.
CeraVe AM with SPF30
i use this product everyday after applying my skincare. I usually use SPF 30 when im at home. It gives a very healthy glow, no white caste and very very light.
my order haven't arrive yet, still stuck at gdex petaling jaya since 9 june.
Good product
I have been using the product for a few weeks and I notice and acne scars fading bit by bit. Also it makes my skin feel so smooth and soft
Suitable for my skin, i have acne oily skin and it helps reduce my redness