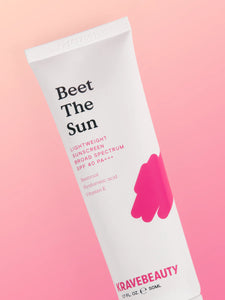 A gentle, antioxidant-rich day fluid that protects your skin from harsh environmental stressors. Beet The Sun SPF 50+ PA++++ is a lightweight, non-white cast leaving formula that's charged with beet root extract and antioxidants to fight against the free radicals so you don't turn beet-red.
How to Use: 
*Daytime use only*
Application guide: Monday through Sunday, every morning. Apply a generous amount evenly onto face, neck, and chest. Beet The Sun comes in as the LAST STEP of your skincare routine, after your moisturizer. Apply at least 15 minutes before heading outdoors and reapply as needed.
Pro tip: You can totally ditch a makeup primer when using Beet The Sun SPF 50+ PA++++.