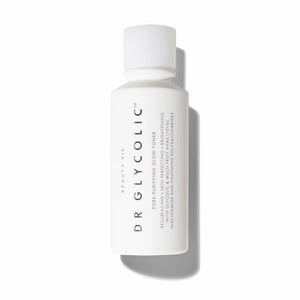 Made in Switzerland 
With Glycolic Acid (9.2%), Niacinamide and Multi-Fruit AHAs (1.5%)
A gentle but super-effective multi-acid resurfacing toning lotion. Use 3X/week for normal to dry skin and up to daily on oily or acne-prone complexions.
GLYCOLIC ACID 9.2%
From sugar-cane, for resurfacing, renewing, breakout minimizing, pore-clearing, to improve visible scarring and hyperpigmentation, refine skin's texture and reduce visible wrinkles
NIACINAMIDE (VITAMIN B3) 1%
A non-sensitising vitamin that helps visibly improve the appearance of large pores and uneven texture and skin tone, and reduces the visibility of fine lines, wrinkles, and dullness. It also helps boost the hydrating ability of most moisturisers
NATURAL FRUIT AHAS 1.5%
A blend of Bilberry, Orange and Lemon fruit extracts (natural AHAs), to resurface and refine the skin's texture, visibly reducing the appearance of blemishes and wrinkles
ANIONIC POLYSACCHARIDES
To balance the exfoliating activity and help minimize skin sensitivity
Soak a cotton pad with Dr Glycolic Pore-Purifying Glow Toner and sweep across a just-cleansed face, neck and chest, avoiding the lips and eye contour. Use three times a week for normal/ dry skin, and up to daily on oily skin or acne-prone complexions.
Awesome product
I simply love this Beauty Pie product! My skin is sensitive and when I use certain exfoliating products, it can breakout. But, this product💕My skin feels so smooth and has that glowy look. No breakouts at all!!