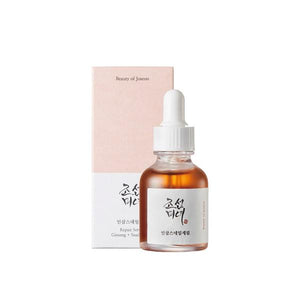 What it is : A light-weight, but nourishing serum enriched with Hanbang(traditional Korean herbal medicine) ingredients for fighting against aging and pigmentation
Glowing Solution : Ginseng root water 63.36% + Snail Mucin 3%
Notable ingredients :
- anti-wrinkle : Adenosine, Matsutake extract, Ginseng root extract
- anti-inflammatory : Licorice root extract
- brightening : Niacinamide, Cornus officinalis fruit extract
- Moisturizing : Hyaluronic acid, Hydrolyzed hyaluronic acid, Sodium hyaluronate
What are the benefits of Ginseng & Snail mucin? 
1. Ginseng : Anti-wrinkle & pigmentation
The 'saponin' abundantly contained in ginseng is effective in preventing pigmentation and wrinkles caused by UV rays. It is known to promote hydration (moisturization effect) of the skin, which helps to protect the skin from external stimuli by retaining moisture deep in the skin for a long time
2. Snail Mucin : Repairing scars, Improving skin elasticity
Snail secretion filtrate promotes the regeneration of skin cells to help restore damaged skin and prevent skin aging. It contains collagen and elastin that help maintain skin elasticity, synergistically improving wrinkles with ginseng
Great
Enjoying the product! Have yet to see the results.