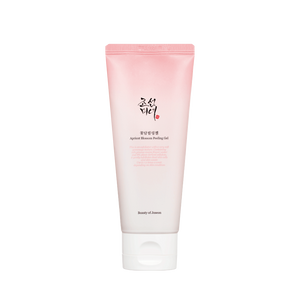 This is very gentle and mild physical exfoliator with smooth gomage texture which minimizes irritation while exfoliation. Use this peeling gel 2-3 times a week to remove your dead skin cells so that you can aid absorption of other beneficial skincare products. By removing dead skin cells regulary, you also can improve skin texture and skin tone as well.
Prunus mume flower & fruit extract, Apple extract helps gentle exfoliation without irritating or drying out skin.
How to Use:
Apply a proper amount on your dry face except areas near eyes. Massage gently for about 1 minute. Rinse off with lukewarm water.
Use it 2-3 times a week depending on your skin condition
love this peeling gel so much bcs it makes my skin smooth & radiant
Beauty of Joseon Apricot Blossom Peeling Gel
Apricot Blossom Peeling Gel first purchase
Love this product! Works really well on my skin. Used it for 2-3times in a week & the result of my skin is much clearer skin tone & less acne breakouts. Thanks JDeeSpree.
Beauty of Joseon Apricot Blossom Peeling Gel