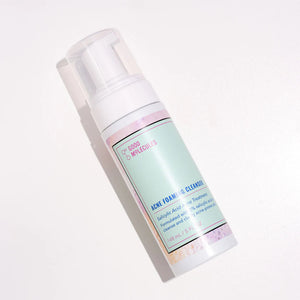 Treat acne and breakouts with this exfoliating cleanser from Good Molecules. Acne Foaming Cleanser is a fluffy foaming cleanser powered by 2% salicylic acid—an antiinflammatory and antimicrobial ingredient that exfoliates on the skin's surface and deep within pores. The result? Clean, comfortable skin now—and a smooth, radiant, even-toned complexion over time.
Why It's Special
2% salicylic acid (aka beta hydroxy acid or BHA) exfoliates away dead skin cells while unclogging pores for visibly smoother, clearer skin
Rich foaming formula gently removes surface oil, impurities, and buildup, leaving skin soft and comfortably clean
Free of soap, fragrance, and harsh cleansing agents
How to Use
Gently massage into wet skin for 20-30 seconds. Rinse thoroughly and pat dry. Can be used in the morning and/or at night.