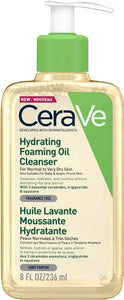 Normal to very dry skin, baby skin, and allergy-prone skin.
Developed with dermatologists, CeraVe Hydrating Foaming Oil Cleanser gently cleanses and replenishes the skin's moisture levels for all day hydration. The ultra-mild foaming texture provides a gentle approach to cleansing, without drying out the skin. The transformation of oil to foam when lathered on the skin effectively removes excess dirt and impurities, without stripping the skin barrier, an ideal squalane cleanser formula for those with dry or sensitive skin.

Whilst naturally found in skin, the plant-derived qualities of squalene oil and triglyceride work to replenish the skin's surface after cleansing to provide long-lasting hydration. This squalane cleanser provides a nourishing touch, leaving the skin balanced, soft and smooth, while removing any form of tightness. A nourishing face wash for allergy-prone skin, this oil-based cleanser is non-comedogenic and contains no parabens or dyes, making it suitable for those with eczema-prone skin.
 
- Mild surfactant system: a foaming oil cleanser system that provides an ultra-mild yet efficient cleanse without leaving the skin too dry or greasy.
- Hyaluronic acid: helps to lock in moisture to the skin 
- Niacinamide: helps to nourish and repair the skin 
- 3 essential ceramides: help restore the skin's outer protective barrier to reduce transepidermal water loss resulting in healthier looking skin.
- The unique combination of triglycerides and plant derived squalane oils helps replenish the skin's natural lipids after cleansing, adding to its hydrating effect. 
- Face wash suitable for allergy-prone skin, baby and eczema-prone skin 
- Non-comedogenic, soap free, PH neutral and allergy-tested
- Developed with Dermatologists 
Hydrating
The cleanser is hydrating and so far it good for my skin, but can't real tell yet because I just started using it for 2 weeks.