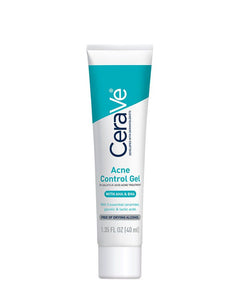 Hydrating full-face acne treatment gel
CeraVe Acne Control Gel is a hydrating, daily acne treatment with 2% salicylic acid that clears acne and helps prevent new breakouts from forming. It also offers gentle exfoliation with alpha- and beta-hydroxy acids (AHA and BHA) that help improve the appearance of pores along with calming niacinamide and barrier-strengthening ceramides.
An effective acne treatment is key for maintaining a clear, healthy complexion. Salicylic acid is a beneficial ingredient for clearing acne and preventing new breakouts, and a product that provides gentle exfoliation can help minimize the appearance of pores. An oil-free, non-drying acne gel with alpha- and beta-hydroxy acids (AHA and BHA) can help the skin look smooth and radiant without compromising the skin's natural protective barrier or drying out skin.
CeraVe is the #1 dermatologist-recommended moisturizer brand for acne*, and our new Acne Control Gel is a lightweight, hydrating, full-face acne treatment that contains glycolic and lactic AHAs plus the BHA salicylic acid. This mild yet effective exfoliating formula clears acne, helps prevent new acne blemishes from forming and minimizes the look of pores while improving skin texture and the appearance of smoothness. Oil-free, free of drying alcohol and gentle on the skin, Acne Control Gel also replenishes the skin's protective barrier with 3 essential ceramides, calms the skin with niacinamide, helps skin look noticeably clearer after 3 days and maintains healthy skin with daily use.
*#1 recommended non-OTC moisturizer brand for acne-prone skin. Source: IQVIA, ProSource Survey, 11/1/2019-10/31/2020.