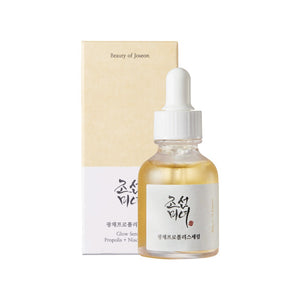 What it is : A honey-like serum enriched with Hanbang(traditional Korean herbal medicine) ingredients for fighting against acne, reducing pores
Glowing Solution : Propolis extract 60% + Niacinamide 2%
Notable ingredients :
- anti-inflammatory : Tamanu oil, Betanie Salicylate, Tea tree extract
- brightening : Lotus corniculatus seed extract
What are the benefits of Propolis? 
1. Anti-inflammatory, Fighting against acne
Acne is a chronic inflammatory disease that can occur in the hair follicles and sebaceous glands. In general, antibiotics or steroid ointments are used to calm it down, but these drugs are quite strong, which has the disadvantage of irritating the skin and weakening the skin's barrier. We recommend propolis extract as an alternative
2. Skin brightening
Propolis contains a variety of antioxidants which have the effect of brightening skin flaws and dark spots. This Glow Serum contains niacinamide and lotus corniculatus to further enhance the brightening effect
New Holy Grail
I've used it for more than 2 weeks now and i never had regret of trying Beauty of Joseon! it helped me with acne scars and makes my skin smooth and softer even without my TO glycolic toner on some days! It really helps with my oily skin. it reduce the sebum and increase the moisture! if you love TO buffet serum, you'll love this one too. the texture is thicker than buffet but less is more! 2 drops can cover my whole face and neck fully! Definitely buying again!
Great for my dry skin
My neck loves this! Great for hydration, affordable too
It feels so soothing on my skin
Beauty of Joseon Glow Serum : Propolis+Niacinamide
Product works well
Been about three weeks, every night since I've started using the product together with my LED mask and been loving it. It has a sticky texture, otherwise keep the skin plump the next morning.