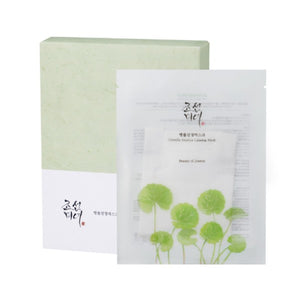 This mask is Beauty of Joseon's first sheet mask series that focuses on the most basic and essential functions of skincare products : Hydrating and Soothing
Won't my acne get worse as it clogs my pores?
Won't overnutrition cause any troubles on my skins?
Won't my skin sensitive to the ingredients get so bad?
If you've been thinking about the things mentioned earlier, it's time to focus on the basics.
This sheet mask contains 15% of centella asiatica extract which is one of the amazing ingredients for soothing skin troubles, and also contains 3 types of hyaluronic acid for intensive moisturizing
*For all skin type
*25ml (1.01 fl.oz.)
Key ingredients : Centella Asiatica Extract (15%), Sodium Hyaluronate, Hydrolyzed Hyaluronic Acid, Hyaluronic Acid
Key benefits : Calming, Soothing, Moisturizing, Hydrating
How to Use:
1. Use toner with cotton pads for refine your skin texture
2. Put the mask on your face and leave it for 15-20 minutes
3. Take off the mask and pat gently with your fingertips to be absorbed
Love it
Love this mask…very hydrating..i used everyday 😄
Beauty of Joseon Centella Asiatica Calming Mask