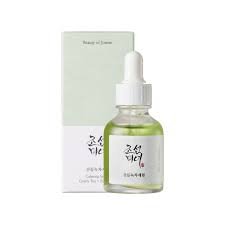 What it is : A calming serum enriched with naturally-derived calming & moisturizing ingredients
Calming Solution : Green tea leaf water 76.49% + Panthenol 2%
Notable ingredients :
- calming & soothing : Artemisia vulgaris extract, Centella asiatica extract
- moisturizing & hydrating : Glycerin, Sodium hyaluronate, Propolis extract
What are the efficacy of green tea? 
1. Soothing and Anti-wrinkle
The main component of green tea, EGCG (catechin), is composed of tannins and polyphenols.
It is known to effectively improve skin damaged by UV rays. UV rays are the main cause of skin darkening and stimulate aging. Catechin suppresses the synthesis of the melanin pigment caused by UV rays and removes free radicals that promote aging, thereby helping to keep skin clearer.
2. Skin brightening
Did you know that green tea is surprisingly rich in vitamin C?
Green tea contains a large amount of vitamin C, 5-8 times more than lemon, which is s core component needed to make skin bright.
Beauty of Joseon Calming Serum : Green tea+Panthenol
The texture of the serum really good & suit well with my kind type! My fav serum to go <3