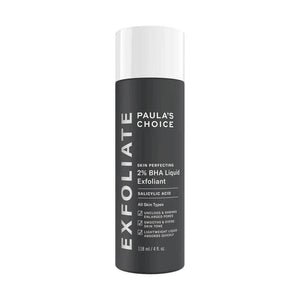 This gentle, leave-on exfoliator rapidly unclogs pores, diminishes the appearance of wrinkles, and improves skin tone for unbelievably smooth, brighter, and firmer-looking skin.
Removes old skin cells on the skin's surface & inside the pore
Unclogs Pores
Shrinks Enlarged Pores
Reshapes Pore Lining
Improves Skin Cell Turnover Rate
Smooths Wrinkles & Skin Surface
Increases Collagen Production
Love all of Paula's Choice Items!
I LOVE this cleanser for my acne and it works so well combined with all my anti aging stuff as well! Vegan and NO fragrance!!!!
Worked okay but not for my skin
Anything that doesn't cause a reaction on my skin is a bonus. I used this product regularly for months, but there weren't any signs of improvement, but it made my skin feel clean and fresh.
Paula's Choice Skin Perfecting 2% BHA Liquid Exfoliant
My new skincare product
I love my facial skin care products, it really suits when i start using them. Can't wait to see the changes in my facial skin that has a lot of pores.
Fantastic product Paula 👌
Acne really reduced alot..now I have black spots only..the product really super working for my skin tone. I m really happy 😊