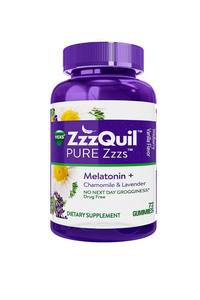 Everyone deserves a good night's sleep. Try Vicks ZzzQuil PURE Zzzs and get the sleep you need, drug-free. PURE Zzzs works naturally with your body to support sleep and is specially formulated with an optimal level of melatonin, shown to help regulate your sleep cycle without next day grogginess.* It also contains a unique botanical blend of Lavender, Chamomile, Lemon Balm, and Valerian Root.
HOLY GRAIL!
It works amazing for me. I just pop 2 gummies daily at night and sleep like a baby. I am actually still in denial at how wonderfully it works. But please allow 30-40mins after taking the gummies for it to work it's magic. Always a permanent returning customer of JDee Spree. Trust me ❤️
It actually works!
I have been having problem falling asleep lately and woke up for work with only a few hours of sleep. But after taking this gummy, I can actually have a good night sleep at least 7 hours. I take 1 gummy and fall asleep within the next 30 minutes.
Works like a charm!
There really isnt much to do - pop one of these babies 15-30 mins before sleeping & youll snooze like a baby. Not a deep sleep but a quality one, so u dont need to worry on missing your alarm or anything like that! It definitely fixes your sleeping schedule as well.
Recommended product & best service!!
this product really helps me get my sleeping pattern back to normal without making me feel dizzy or sleepy the next day!! will definitely buy again! 💖