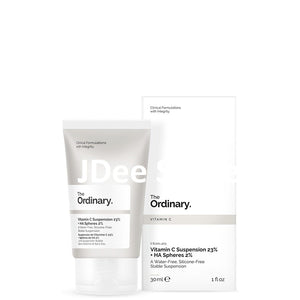 A water- and silicone-free stable suspension of 23 percent pure l-ascorbic acid.

Solutions for:
- Uneven skin tone
- Fine lines and wrinkles

If you want to know more…
Vitamin C is an effective antioxidant and its pure form of l-ascorbic acid has been shown to improve multiple signs of skin aging while brightening the skin.

Suggested Usage:
-Apply a small amount to face in the AM or the PM (PM preferred).

Precautions:
-A strong but non-irritating tingling sensation can be expected after application. If the sensation is too strong to tolerate, the formula can be mixed on each application with other creams or serums of your preference.
-Due to the powder form of l-ascorbic acid used, this formula feels gritty for a few seconds after application. If you prefer to avoid this gritty feel, use the Vitamin C Suspension 30% in Silicone formula.
A good product with amazing services!