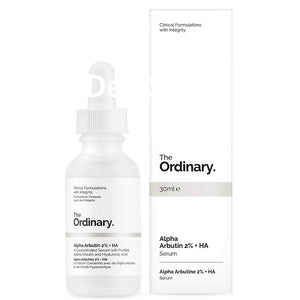 What it is:
A concentrated serum with pure alpha arbutin and hyaluronic acid. 
Solutions for:
- Uneven skin tone
- Hyperpigmentation
- Dark spots

If you want to know more…
Alpha Arbutin reduces the looks of spots and hyperpigmentation. It's used at a high two percent concentration versus a standard concentration of one percent and supported with a form of hyaluronic acid for enhanced delivery. 
Note: Alpha Arbutin is extremely sensitive to degradation in the presence of water if the pH of the formulation is not ideal. The pH of this formula is approximately 4.9 which is shown to be the most suitable pH to minimize degradation of Alpha Arbutin.

Suggested Usage:
Apply a few drops to face in the AM and PM as part of your skincare regimen. Use sun protection in the AM. If irritation occurs, cease use and consult a physician. Use only as directed on unbroken skin. 


Alpha arbutin and niacinamide
I have pigmentations since many years ago... Aftr i used Alpha Arbutin and a proper skincare routine ... I really saw a magic on my face...
Alpha arbutin and niaciminide
Alpha arbutine, I dont see any difference. But i bought a few serum, so i use it alternately. But the niaciminide works well. If i have a pimple, i just put directly at the pimple, the next day its dried up. But since 10% its too high to put on the whole face, i put 2 drops in my daily moisturizer amount, and mix it, and use it. Ive seen it on tiktok, so it wont be tht harsh on ur face. My face is very sensitive, not all products work on me easily. Its still trial n error for me