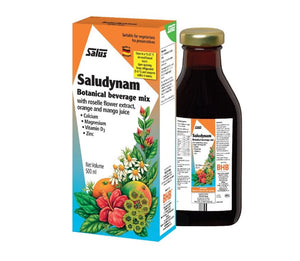 Saludynam (Formerly known as Salus Calcium Magnesium) is a botanical beverage mix with roselle flower extract, orange and mango juice which is high in calcium, magnesium, zinc and vitamin D₃.
helps safeguard the balance of calcium, magnesium, zinc and vitamin D

contains several fruit juice concentrates and selected herbs for a pleasant taste

without preservatives, colourings, artificial flavourings
Serving Suggestion
Consume 3 tablespoon straight or dilute with water.
Ingredients
Aqueous roselle flower extract, fructose syrup, aqueous chamomile extract, magnesium gluconate, aqueous fennel fruit extract, orange juice concentrate, water, aqueous spinach leaf extract, calcium gluconate, mango juice concentrate, magnesium citrate, carob extract, calcium lactate, thickener (locust seed flour), grape juice concentrate, lemon juice concentrate, natural flavours, apple juice concentrate, zinc acetate, vitamin D₃ (cholecalciferol).