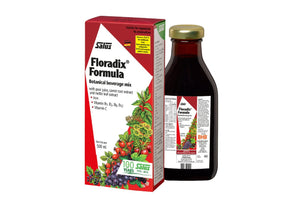 Floradix® Formula is a botanical beverage mix with fruit juices and herbal extracts, high in Iron, Vitamin B1, B2, B6, B12 and Vitamin C. Floradix® Formula has been around for more than 60 years.
Iron, vitamin B2, B6, B12 and C contribute to the reduction of tiredness and fatigue

BENEFIT
- Clinically proven to normalize low iron levels
- Beneficial for pregnant and lactating women, athletes, the elderly and vegetarians & vegan
- Formulated for maximum absorption
- No preservatives, heavy metals, artificial additives or pesticides
- Beneficial for assisting in proper foetus development
- Promotes the formation of healthy red blood cells
Serving Suggestion
Consume 2 tablespoons straight or dilute with water.
Ingredients
Fruits preparation (pear juice concentrate, grape juice concentrate, black currant juice, aqueous rosehip extract, orange juice concentrate, blackberry juice concentrate, cherry juice concentrate), herbal extracts (aqueous nettle leaf extract, aqueous couch grass root extract, aqueous fennel fruit extract, aqueous roselle flower extract), botanical juice and extracts (aqueous carrot root extract, aqueous spinach leaf extract, aqueous ocean kelp extract, red beet juice concentrate, wheat germ extract), honey, yeast extract, ferrous gluconate, vitamin C (ascorbic acid), vitamin B2 (riboflavin sodium phosphate), vitamin B1 (thiamin hydrochloride), vitamin B6 (pyridoxine hydrochloride), vitamin B12 (cyanocobalamin) and natural flavours.
Avoid: 
People with Thalassemia, Hemochromatosis, Polycythemia & Kidney Disease please consult with your doctor before taking
Every 10ml contains