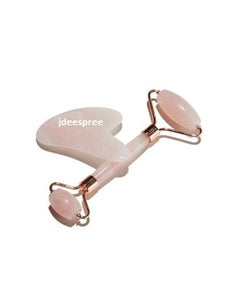 Premium Rose Quartz Roller and Gua Sha Set
The facial roller can be a much more convenient and quick option to stimulating blood flow and draining puffiness while the gua sha can help the individual incorporate some intuitive flow to their routine, helping to go deeper while spending more time really indulging in the ritual of skincare.Gua Sha is meant to be an act of self-care by slowing down your breath and allowing yourself to rhythmically contour the face with your stone of choice to release muscle tension and activate the lymphatic system. The roller is just a much simpler concept and can be soothing with just a quick rolling technique to activate a little energy and flow to the skin. Speed is not as much of a factor with facial rolling, however, it can be a great part of the routine if you have time.
It's part of my routine and i can't leave this step every single time
Gua Sha is a must have
Received this as well in a beauty box. The jade roller is alright for massaging product into the skin, but to remove puffiness and massage the face, get the gua sha!