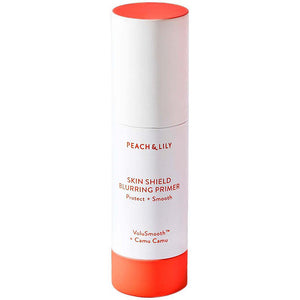 Your skin's new bodyguard has arrived
Our new Skin Shield is the perfect — and essential! — complement to your favorite SPF. While SPF filters out UV rays, Skin Shield follows up with full protection against daily environmental stressors – pollution, makeup, excessive phone time, internal stress – which can lead to persistent dark spots, lines, dullness, or breakouts.

Enter your new Skin Shield.

After three years of research with forty chemists, we developed a breakthrough, proprietary plant-based complex, VoluSmooth™, for a whole new level of protection. This natural silicone alternative functions as a protective barrier maxed out with antioxidants that fend off damage and improve skin from within. Your skin will have a smooth (blurs pores and texture!), cushion-y, filled-in finish. And this won't clog pores, disrupt your skin barrier or cause breakouts. Your Skin Shield will protect and smooth, all while actively replenishing skin with vitamins and strengtheners.
Size: 30ML