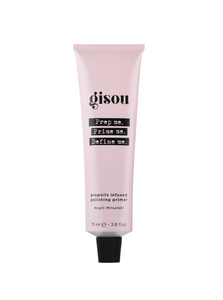 A lightweight primer that prepares your hair for styling by enhancing volume and hold.

Benefits:
- Prevents and diminishes frizz
- Enhances texture, volume, and definition
- Ensures optimal, workable hold

Prep your hair beautifully for styling with Gisou's Propolis Infused Polishing Primer. In addition to adding volume and grip to your hair, the primer reduces drying time, protects strands from damage and dehydration, and lengthens the life of your style.