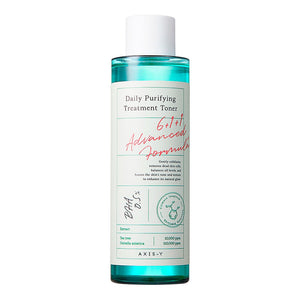 CONTROLS ACNE & CALMS
Clears out bacteria and pollution stuck deep in pores that cause persistent inflammation and acne. Nutrients from our natural ingredients then soothe skin and promote healing.
- Gently exfoliates dead skin cells
- Removes acne causing bacteria for clearer skin
- Soothes inflammation and speeds up skin's healing process
200 mL / 6.76 fl oz.
The Best Toner so far
I've been trying out many toners out there to reduce oil production in my skin that contributes to acne and breakouts. Up until now, I've been using this toner for the past one month and within just 2-3days I could see instant results after using. My skin oil production was lesser and there's very less acne and breakouts appearing. Not only that, my old acne scars have been fading away quite fast as well. I will definitely repurchase this Toner forever. Thanks 😊
Its good
Its suitable for my skin . I love ittt
AXIS-Y Daily Purifying Treatment Toner
Best toner for tiny bumps
Jdeespree gave me a good recommendation for my tiny bumps problem by purchasing the axis toner