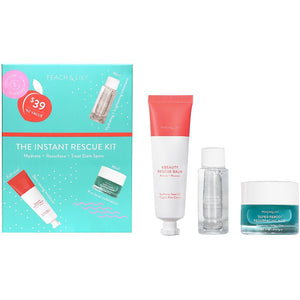 Dull, dehydrated, dry skin stands no match
This travel-friendly kit includes three of your favorite Peach & Lily products — two mini and one full-sized — to help brighten, hydrate, and nourish your skin. Gently exfoliate and resurface skin with a mini Super Reboot Resurfacing Mask, a professional-grade mask with 10% AHA, 0.5% BHA, and blue agave extract. Flood your newly-smoothed, de-clogged skin with hydration with a mini Wild Dew Treatment Essence. Finally, use a full-sized Kbeauty Rescue Balm to treat dry spots, chapped lips, cracked heels, wherever your skin needs a bit of extra love and a boost of hydration.

Specifically formulated to be highly effective and gentle, these three products help combat common issues, instantly bringing skin around to a visibly brighter, more hydrated, supple complexion.