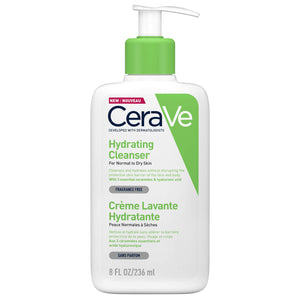 Soothe and revitalise dry skin with CeraVe Hydrating Cleanser, a deeply hydrating cleanser created with three essential ceramides. Suitable for both the face and body, this cleanser is designed to soothe sensitive skin that can be prone to irritation and eczema. The soap-free, non-foaming lotion helps to keep your skin feeling soft and moisturised.
Expertly sweeping away dirt, excess oil and impurities without stripping away moisture, the cleanser uses Hyaluronic Acid to strengthen and restore the natural barrier function for long-lasting hydration. Time-release technology ensures skin stays bright, clear and refreshed throughout the day and night.
Suitable for normal to dry skin types.
Free from soap and fragrances. Hypoallergenic and non-comedogenic
cerave moisturiser
absolutely great! its moisturizing but non sticky/tacky after applying. Didnt feel like it was enough for my super dry skin, but it was! so yay~ also, i have ezcema on my upperlip area and it didnt trigger anything so double yay~🤗
Love sgt bestt , tinybump pun kurang