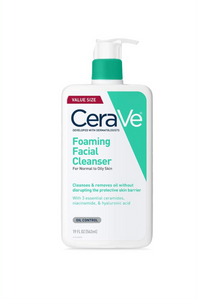 Developed with dermatologists, CeraVe Foaming Facial Cleanser has a unique formula with three essential ceramides (1, 3, 6-II) that cleanses and removes oil without disrupting the protective skin barrier. Gentle foaming action refreshes and cleanses skin, including removing excess oils and makeup.
Non-comedogenic
Non-drying
Non-irritating
Ideal for normal to oily skin
Key Ingredients:
Ceramides: Essential for healthy skin, ceramides help restore and maintain the skin's natural barrier
Hyaluronic acid: This ingredient attracts hydration to the skin's surface and helps the skin retain moisture
Niacinamide: Helps repair a compromised skin barrier while improving the appearance of the skin
CeraVe Foaming Facial Cleanser 19 Fl oz (562ml)
Recommended!
Saves my money BIG TIME and it is my second time purchasing Cerave Foaming Facial Cleanser.
Worth every penny.
Received in good packaging, bubble wrap was thick and product was fully secured. The product is 100% authentic and trusted. Will definitely buy from this site again 👍
Cerave Foaming Facial Cleanser
I received my item generally in good condition but the courier team did not handle them correctly so the liquid was leaking. Nothing much but when I informed JDee Spree on this, they immediately refunded RM10. I wasn't expecting this but they were kind enough to refund. Still very grateful for their kind act and will continue purchasing my next products from them.