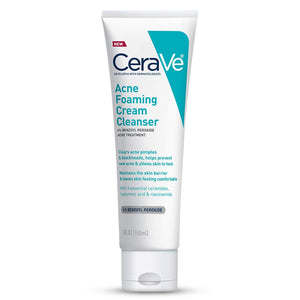 *#1 recommended non-OTC moisturizer brand for acne-prone skin. Source: IQVIA, ProVoice Survey, 5/1/18-4/30/19.
4% Benzoyl peroxide:

Helps clear acne and blackheads
Helps prevent new acne pimples from forming and allows skin to heal


Ceramides: Help maintain the skin's natural barrier
Hyaluronic acid: Attracts hydration to the skin's surface and helps the skin retain moisture
Niacinamide: Helps calm the skin
Non-comedogenic
Developed with dermatologists
Alhamdulillah all praise be to Allah
Thank you J DEE Spree,
My wife skin now healthier after using the cleanser she really loves it as this is her 3rd tube!
Thank you again JDee Spree for this wonderful product!
P/s: Remember happy wife happy life!
Absolutely amazing!!
Best acne cleaser so far I ever tried, it doesn't dry out my skin but instead it keep my skin moisture and baby soft skin.. Definitely recommend 👌
Fast Delivery...1st time using this,hope it work on my acne..
Amazing!
This cleanser has been absolutely perfect! I use it twice daily, and it's reduced my breakouts. Definitely recommended!
Amazing!!
I got this because I was breaking out from stress and two days later my skin just calmed down, I only use this at night btw. There was less texture and overall my breakouts reduced. It's been two weeks now and my skin feels amazing. Definitely something I'll repurchase!