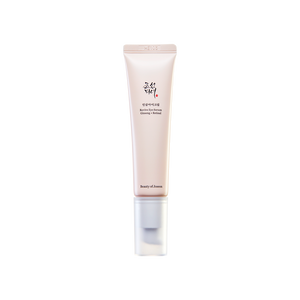 What it is
An eye serum that helps to improve wrinkles on the sensitive skin around the eyes by combining ginseng extract and retinal.

There are multiple studies showing that ginseng is effective in improving wrinkles due to containing abundant amounts of saponins. Ginseng is a well-known herbal ingredient with excellent efficacy.

Key ingredients

Ginseng root extract 10%
In Donguibogam, a Korean herbal medicine book, ginseng was used as an important oriental medicine and recorded as 'Shincho', meaning herb from the gods. Hwang Jini, known as the most beautiful woman in the Joseon Dynasty, used a ginseng decoction as a bath water.
The rich saponin contained in ginseng helps to quickly supply moisture to the skin and maintain it deep inside the skin for a long time to help create healthy skin.

Retinal Liposome 2%
Retinal is a vitamin A derivative and has long been used throughout the history of skin care to improve wrinkles.

When vitamin A is consumed through food, it undergoes metabolic processes that transform it in the order of retinol -> retinal -> retinoic acid. Retinal, which is converted directly to retinoic acid, works faster and more effectively on the skin than retinol, which must go through the process of becoming retinal.

'retinal liposome' was used and it was stabilized by breaking the retinal into smaller elements and enclosing it in liposomes and then adding ingredients such as natural lipids and oils. In addition, ingredients such as glycerin, niacinamide, and cholesterol were included for higher efficacy.
Beauty of Joseon eye serum
I was looking for a retinoid. So I bought the Beauty of Joseon eye serum after reading great reviews about it. And it is true, I love it so much. Love the texture and how it makes my skin look the morning after. I use it on the whole face. Highly recommend it!
Beauty of Joseon Revive Eye Serum
Eye creams take time
Love that it doesn't hurt the eyes when applied! It takes time since eyes are delicate areas. A bit thick on the finger, but definitely well absorbed into skin when applied. Love it so far!
Customer Reviews
03/18/2023
Nirmala D.

Malaysia
Great product
Really love this eye serum. It's light weight and not sticky. The price point is also reasonable for its quality. I bought 2 units onrle go. Really happy with my purchase. Will purchase again.